Kojimachi Shoran

Kojimachi Shoran is a three-dimensional space built with real-time graphics. In this virtual world, the same scene never repeats itself and People move freely as if they have will, generated randomly by programming. In 2017, this work was introduced as an example of technology-utilized art in Japan on the NHK Sunday Art Museum Art Scene at the Karuizawa New Art Museum's "Art is Science Exhibition II."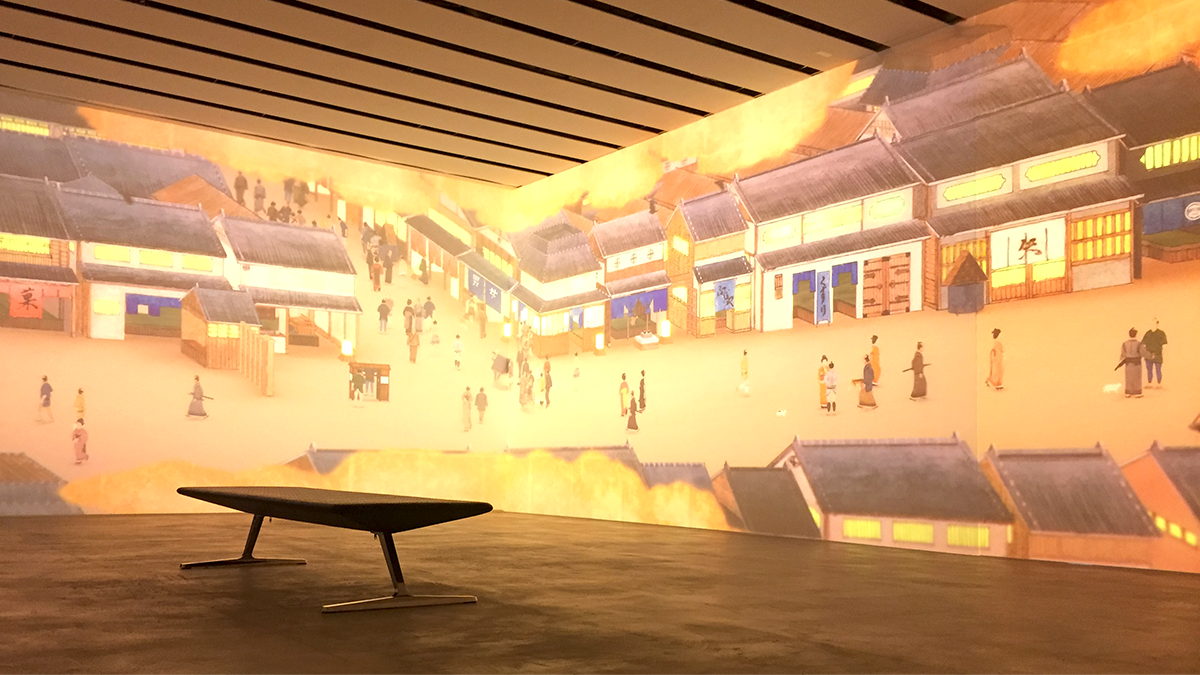 Showcases
DESIGNART TOKYO 2020:The daisy* world. | Japan | 2020
Tsutaya Electrics Plus "Kojimachi Shoran"Exhibition | Japan | 2019-2020
Sega Sammy Holdings Inc head office "Tunnel Tokyo" Tunnel grand vision | Japan | 2019-
Whitestone Gallery "MASATO INAGAKI | daisy*: [6 , 7]" | Japan | 2018
Japan-Africa Forum 2018 | South Africa | 2018
Karuizawa New Art Museum "Art is Science Ⅱ Exhibition" | Japan | 2017-2018
Tokyo Skytree "Tokyo Solamachi" Permanent Exhibition | Japan | 2017-2021
Digital Contents Expo Tokyo | Japan | 2017
Credits open

Credits

Project Planning : Isshindohonpo

daisy* | Masato Inagaki

Project manager
Tadamitsu Kurihara|Shuji Ota

Character modeling and rigging
Takahito Asakino|Tomonori Kaju|Camila Desiree Lopez Pazos|Ryoya Nonaka|Matthieu Claude Tessier|Saori Yoshihara
Animator
Takahito Asakino|Norihito Ishinaga|Yusuke Sekine
Camera and layout
Tadamitsu Kurihara

Background painter
Makiko Horiuchi
Set modeling
Saori Yoshihara|Yoko Yamashita

Lead programmer
Masaki Katsukawa
Programmer
Shun Suzuki|Hetian Jia|Ryotaro Ito
Technical advisor
Yuzuru Mizuno

Assistant producer
Kasumi Arai

Picture frame production
Asaofutsuundo
Digital Art Park Project

At the event of "Ikebukuro Digital Art Park", the artwork was exhibited on the large screen of the GLOBAL RING THEATRE. This is a digital work where the avatars of visitors, who experienced full-body 3D scanning during the event, immerse and interact within the townscape of the Edo period.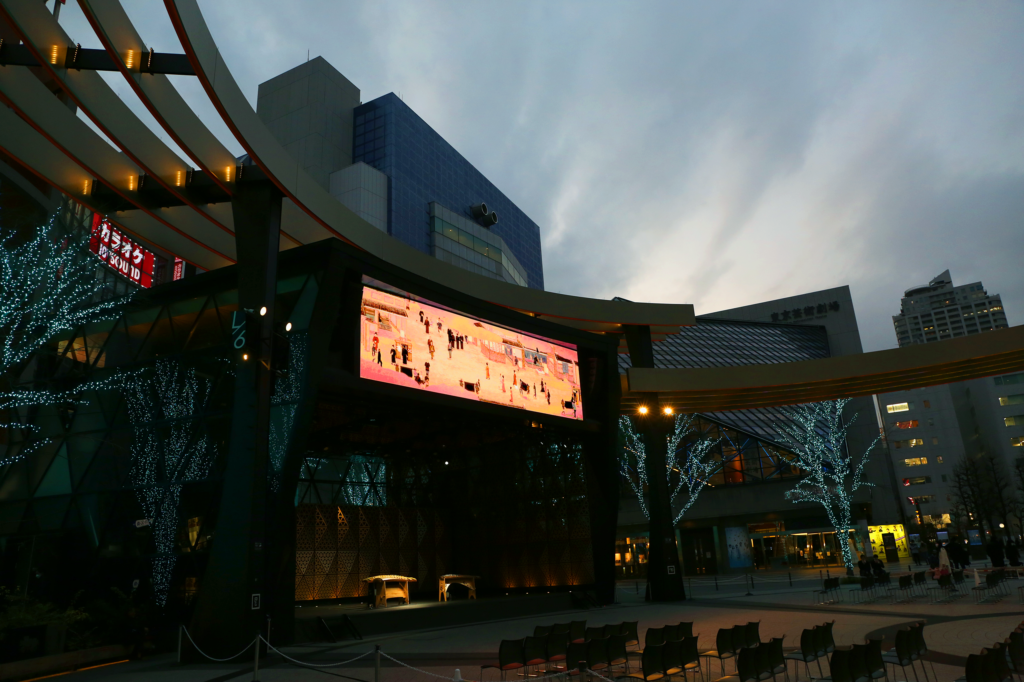 Showcases
IKEBUKURO DIGITAL ART PARK | Japan | 2022
Credits open

Credits

daisy* | Masato Inagaki

Project manager
Tadamitsu Kurihara|Shuji Ota

Character modeling and rigging
Takahito Asakino|Tomonori Kaju|Camila Desiree Lopez Pazos|Ryoya Nonaka|Matthieu Claude Tessier|Saori Yoshihara|Utako Komori|Asami Shima
Animator
Takahito Asakino|Norihito Ishinaga|Yusuke Sekine
Camera and layout
Tadamitsu Kurihara<

Background painter
Makiko Horiuchi
Set modeling
Saori Yoshihara|Yoko Yamashita

Lead programmer
Masaki Katsukawa
Programmer
Shunsuke Uemoto|Shun Suzuki|Hetian Jia|Ryotaro Ito
Technical advisor
Yuzuru Mizuno

Supportr
Art Tokyo Association
Shin Kidai shoran "Muromachi 3-chome"

The "Shin Kidai shoran" project is a digital artwork that reconstructs and reinterprets the extensive scroll painting "Kidai shoran", which depicts the scene from Nihonbashi to Imagawabashi, using modern technology to represent the daily life of people in the Edo period. As the first part of this project, it portrays "Muromachi 3-chome".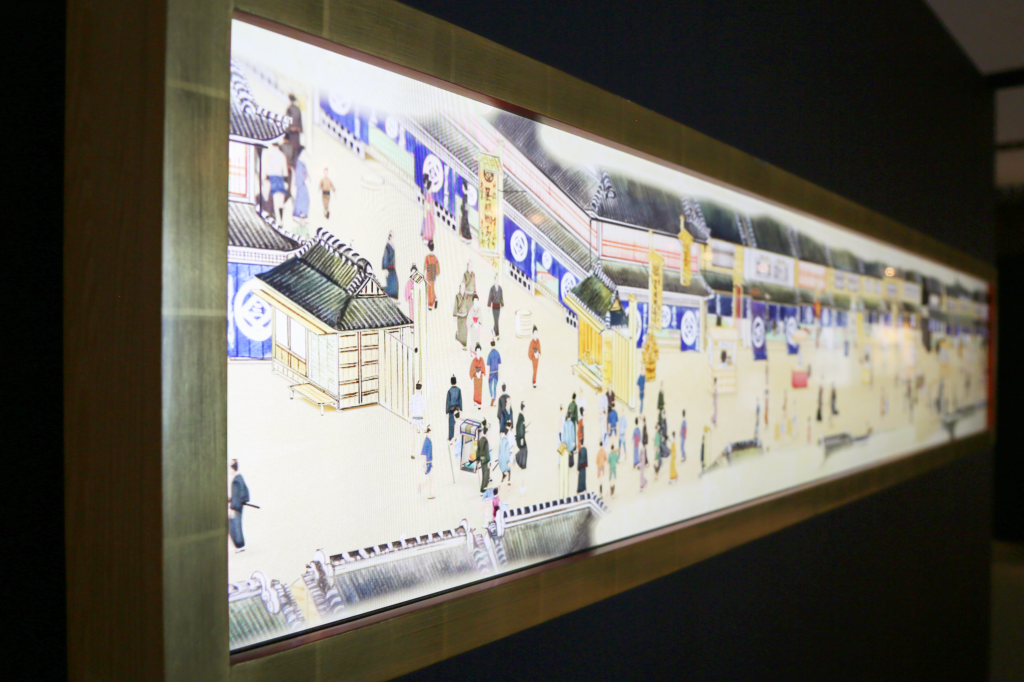 Showcases
GEISAI#22 & Classic | Japan | 2023
Flat River Gallery "Masato Inagaki|daisy* : art and technology" | Japan | 2022-2023
Credits open

Credits

daisy* | Masato Inagaki

Project manager
Tadamitsu Kurihara|Shuji Ota

Character modeling and rigging
Takahito Asakino|Tomonori Kaju|Camila Desiree Lopez Pazos|Ryoya Nonaka|Matthieu Claude Tessier|Saori Yoshihara|Utako Komori|Asami Shima
Animator
Takahito Asakino|Norihito Ishinaga|Yusuke Sekine
Camera and layout
Tadamitsu Kurihara<

Background painter
Hitoshi Nakatsuka
Set modeling
Utako Komori|Kasumi Otsuka

Lead programmer
Masaki Katsukawa
Programmer
Shunsuke Uemoto|Yui Sakamoto|Shun Suzuki|Hetian Jia|Ryotaro Ito
Technical advisor
Yuzuru Mizuno

Picture frame production
Asaofutsuundo